Kuzma Outer bronze ring clamp
Lighter outer bronze ring -clamp L ( 1.3 kg) is now fit for all our turntables ( 180503 )
Standard bronze outer ring- clamp (2.0 kg) for Stabi XL and Stabi M turntables we stop making it.
Outer clamp has inner diameter of 316 mm and it might fit other turntable's platters. Check with us by sending us outer dimension of your platter and photo of a platter edge with record on. There can be
added 3 pads of suitable thickness to centre outer clamp on specific platter. But be aware of added mass.
Product photos: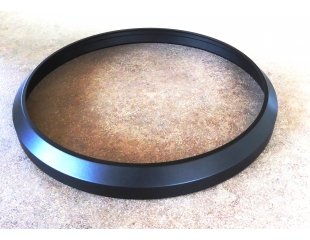 | | |
| --- | --- |
| Standard-Mass | 2.0 kg ( h= 32 mm)- out of production since 180503 |
| Lighter ring-Mass | 1.3 kg ( h= 22 mm ) |